Speronari Suites
Exclusive luxury suites in the heart of Milan
Speronari Suites is the new place to be, the ideal accommodation in the heart of Milan, a place where you can enjoy the customary Milanese cocktail or a delicious dinner in a cosy and cosmopolitan atmosphere, just a few steps away from the Duomo.
Twenty-two luxury suites – complete with a convenient Sauna&Gym area and a renowned Argentinian restaurant, El Porteño – make Speronari Suites the new design & entertainment destination in a central and accommodating facility, nestled among the charmingly boho streets of a former artisan neighbourhood but away from the coming and going of a bustling metropolis.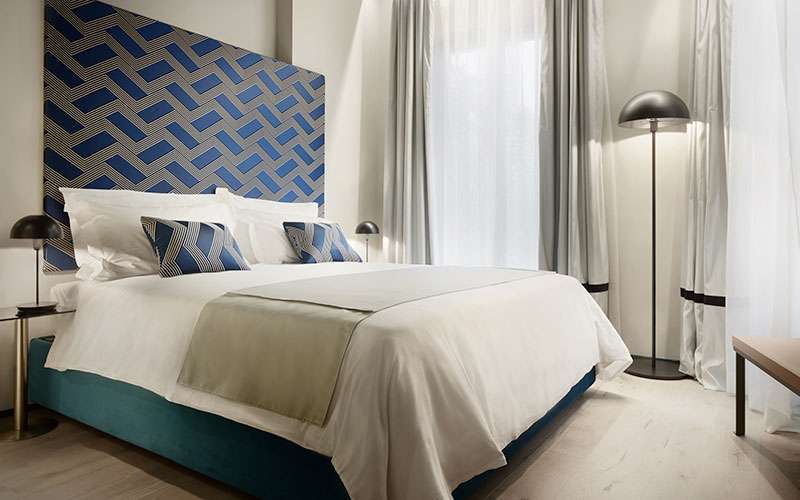 Matrimoniale
18 sqm/193 sq feet, cosy atmosphere and intimate attitude.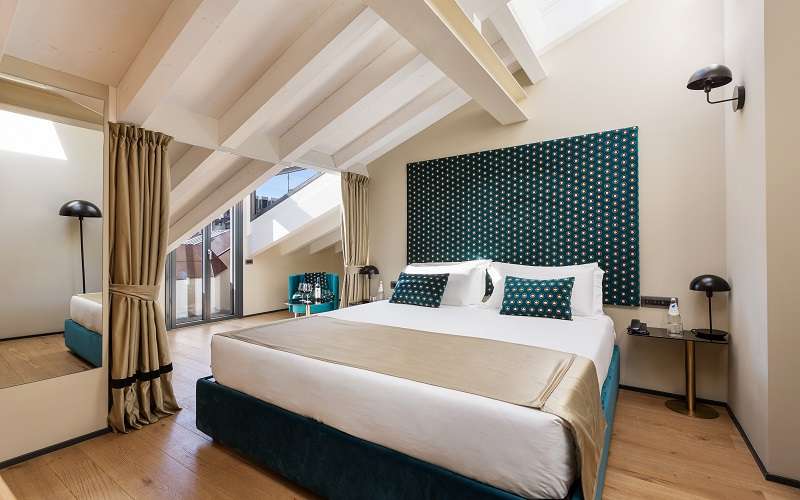 Matrimoniale Deluxe Upper Floor
Upper Floor Deluxe Double
30 sqm/322 sq feet, attic, relax area, located on the last floor.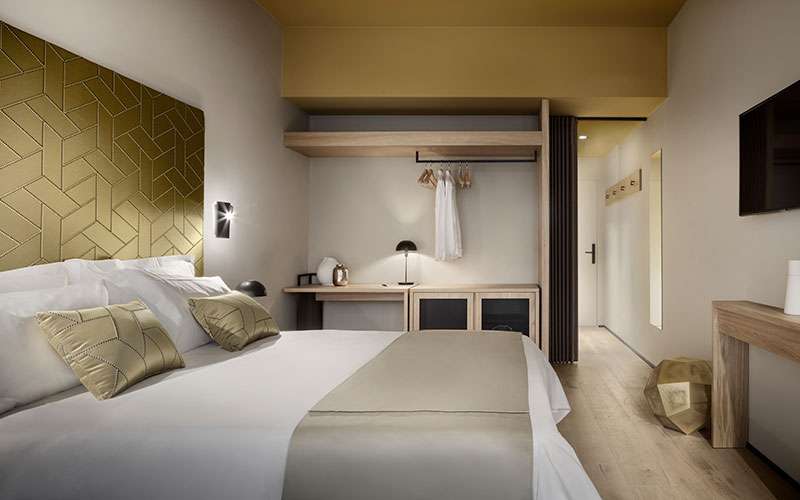 Matrimoniale Superior
22 sqm/236 sq feet, overlooking the historic Via Speronari, bright and spacious. Reading corner.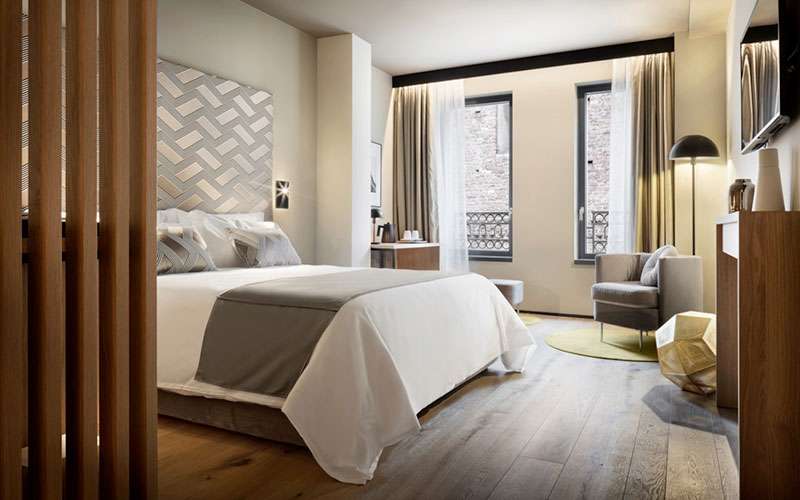 Matrimoniale Deluxe
28 sqm/301 sq feet, large and very bright, overlooking historic Via Speronari. Some with a reading corner.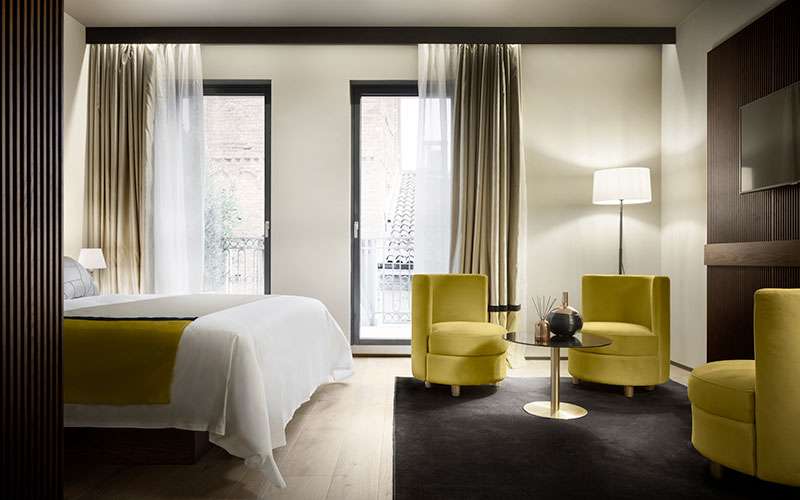 Executive Terrace
32 sqm/344 sq feet, very bright, sitting area, large terrace overlooking historic Via Speronari.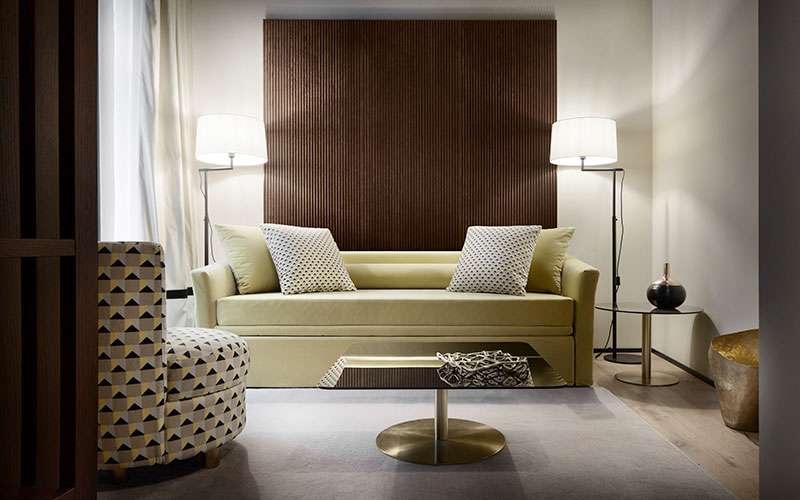 Junior Suite
35 sqm/376 sq feet, living room with sofa bed separated from the bedroom.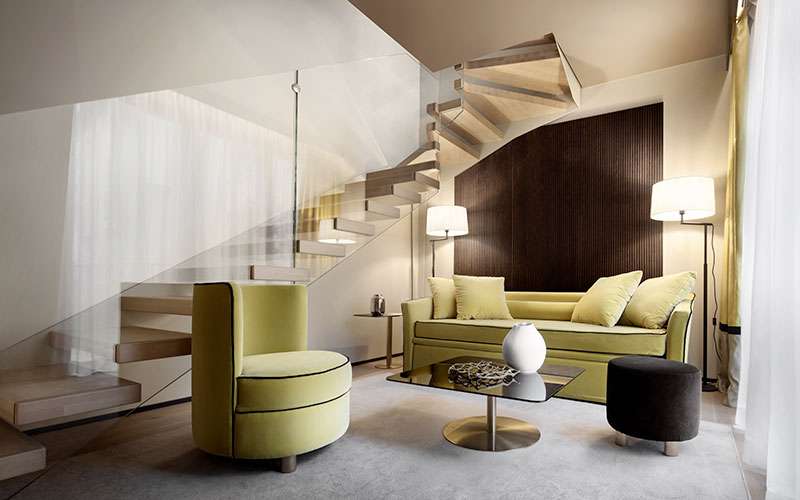 Suite Duplex
50 sqm/538 sq feet, very bright and split on two levels, small living room and separate bedroom.
Suite
42 sqm/452 sq feet, large, very bright, living room and corner for breakfast and dinner in the room.
22 suites divided into 8 types – from the master bedroom to the duplex suites – sharing 3 distinctive features: elegance, warmth, comfort. The solid wood flooring, the wainscoting and graphic fabrics, the mix of quality materials and minimalist decorative elements define the character of each space. Guests are welcomed in an essential and expressive environment.
Along with these aesthetically pleasing suites there is also a Sauna & Gym area, located in the facility's lower ground floor, considered to be a small haven of well-being. Fitness enthusiasts may have access to cutting-edge Technogym machinery and equipment, while a state of the art Finnish sauna – "SoulSauna" by Strarpool – is ready to welcome guests searching for a relaxing, yet discreet and soothing area.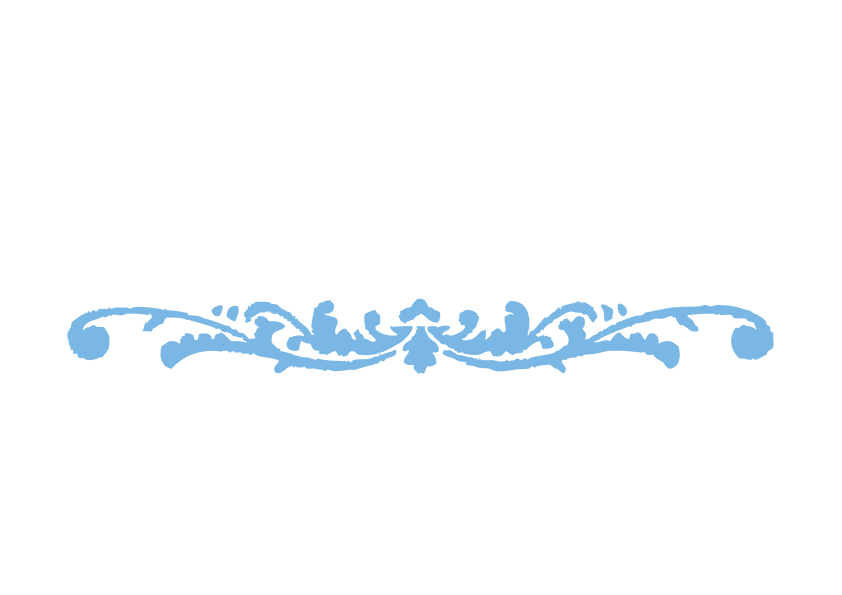 "El Porteño – industria argentina", among the most acclaimed bistros by the Milanese and international public, is not only open to the guests staying at Speronari Suites but also to patrons not staying at the facility. This strong ability to attract many patrons is the result of a high level cuisine and an orderly stylish design, capable of combining elegance and modernity, ethnic flavours and folk elements.